Category:
Life Insurance
Why Do You Need Life Insurance?
A lot of us in Oswego, Montgomery and Morris (IL) may like to envision a scenario in which we live as long as possible and achieve many of our life plans. Unfortunately, no matter how well we write and follow our life narrative, life itself tends to go off-script.
Life insurance is our safeguard against the unpredictable. In the event of our death, the death benefit built into a life insurance policy can ensure that our survivors continue receiving income we otherwise might have provided. It becomes our backup plan for our family and loved ones.
At the same time, depending on our circumstances, outlook and age, some of us may still ask ourselves why we need life insurance. We might avoid or postpone it because:
we think it's too expensive. Acquiring life insurance typically comes down to money. However, depending on certain factors, a policy can cost less in a year than we might spend on dining and entertainment in one month.
it seems complicated or confusing. Understanding the right policy for you and your life circumstances can be simple and easy, especially if you are working with your Hometowne Insurance agent. That agent has already done the work for you and can save you effort and time.
we think we don't need it. In truth, if we have people who depend on us, or we think we will in the future, we do need it, especially if we want a good way to ensure they will have financial security in the event of our passing.
we can take care of it later. This thought can be challenging because we do not get healthier as we get older. Life insurance rates are based on your health and age, so the best, most affordable time to acquire life insurance is now.
Let's discuss more about what life insurance is and how it can be one of the best financial choices you make for yourself and your loved ones in Oswego, Montgomery or Morris.
Why Do You Need Life Insurance? The Basics
Life insurance is insurance that pays out a sum of money either on the death of the insured person or after a set period. A policy typically includes an owner or policyholder, a person whose life is insured (often but not always the policyholder) and any number of beneficiaries who will receive the death benefit.
Life insurance has two main types: term life and permanent life.
With term life, you keep the coverage in effect for a specified term, usually between one year and 30 years. The death benefit is paid out only if death occurs during the covered period. If you outlive the term, your beneficiaries will not receive a payout from the policy. Term life is typically the less expensive of the two coverage types.
With permanent insurance, you will be covered for your entire life: The policy remains in effect until you die, even if you live to 100. The premiums will be higher than for term life insurance, but you can still establish consistent premium amounts even though the risk of death goes up as you age.
The advantage of a permanent life policy is that in addition to paying for coverage, the premium payments develop a tax-deferred cash portion along the way. This makes permanent life a type of savings account. The cash value earns interest, and you can draw from the amount if needed. The cash portion can serve different functions as well. For example, you can use it for premium payments or as a source of additional income when you are older.
Permanent life insurance is typically categorized as three main types: whole life, universal life and variable life. The primary difference among them is how they manage the policy's cash portion. With whole life and universal life, the cash portion is invested in the insurance company's portfolio. Variable life insurance will invest the cash portion in the stock market.
Why Do You Need Life Insurance? Reasons
We've discussed how coverage provides a safety net for your survivors in the event of your passing. This is the most common purpose for carrying life insurance. Over time, you might have several other good reasons for having life insurance as well, such as:
you have remaining debt. After your passing, any debt that was held solely in your name will usually need to be paid off by your estate. If you co-signed a loan with anyone, responsibility for that debt will transfer to that person. Life insurance can satisfy both your debt and assist with the co-signer's.
you own a business. If you have a business, life insurance can provide the business heirs with capital to either maintain or sell it after your passing. If you co-own the business with someone, each person may need coverage that will let them buy out the other's ownership upon the other's passing.
you want to satisfy funeral expenses. A funeral today can cost many thousands of dollars. If you have life insurance, you can ensure your survivors can pay for a burial or other memorial service.
Yet another advantage of having life insurance is the ability to pay any estate or inheritance taxes after death. You may also wish to leave a donation to a certain charity.
Life insurance can be a part of a sound retirement strategy as well. This is another area in which an independent agent can be a valuable consultant for your financial goals.
Why Do You Need Life Insurance? Timing
As we've mentioned, the younger you are when you start life insurance, the better. This is because younger people typically qualify for lower premiums, which will help make the policy less costly as they get older. Premiums will be higher later in life because our risk of dying increases. In some cases, an advanced age combined with a health condition can even disqualify a person from getting life insurance.
If you are still young, you might be dealing with debt such as a mortgage or rent payment, a car payment, student loans and credit card debt. This can understandably discourage you from purchasing a life insurance policy. However, if you want to be astute in seeing your bigger financial picture, acquiring life insurance now can pay big dividends later.
As an example, if you purchase $250,000 of life insurance at age 40, the premium can be more than double what you would have paid at age 30. The 10-year delay can result in several thousand dollars more to carry the same amount of protection.
Find the Right Cost and Coverage for You
As an independent agent serving Oswego, Montgomery and Morris, Hometowne Insurance can help you identify the right type and amount of life insurance for your specific circumstances. If you have further questions about why you need life insurance, we can answer them in helping you protect the people who are important to you. We welcome you to contact us today.
Oswego/Montgomery: (630) 554-4040
Morris: (815) 942-1312
Email us
We also help people understand why they need life insurance in nearby communities such as Plano, Yorkville, Batavia, Plainfield, Naperville and Aurora.
Why Use an Independent Insurance Agent?
Imagine you're shopping for a new car in Oswego, Montgomery or Morris (IL). Two dealerships are side by side.
At the first dealership, the salesperson represents a particular make of car and is excited to tell you about all of the new SUVs and hatchbacks offered by that manufacturer. As a devotee of the brand, the salesperson is knowledgeable about the vehicles and all they can offer you.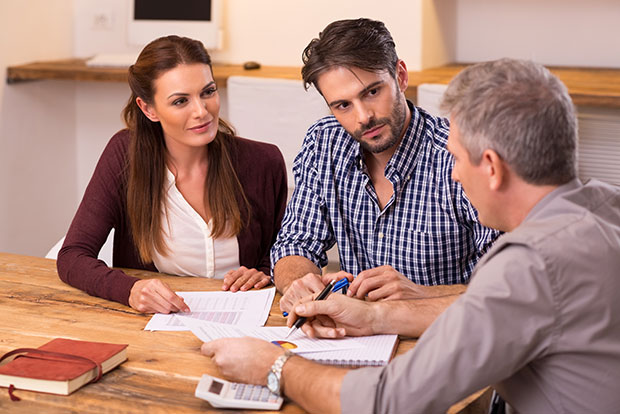 At the second dealership, the salesperson represents multiple makes, models and sizes of auto. The salesperson isn't beholden to one brand, and the inventory has many choices of cars according to what you may currently need.
If you were unsure about which car would be right for you, which dealership do you think might guide you to a better result?
The same question can be asked about insurance agencies. A wider range of coverage types and price points without allegiance to one carrier is but one reason why using an independent insurance agent can benefit you.
Let's look at a few more reasons why using an independent agent in Oswego, Montgomery or Morris can be a great asset.
Why Use an Independent Agent: More Choices, Less Shopping and Maintenance
Most independent insurance agents represent from five to eight different insurance companies. When you need coverage, with an independent agent you will complete just one application to receive multiple quotes from competing carriers.
In other words, the independent agent does the searching and locating of coverage for you, and you get to choose which scenario suits you best. The independent agent works for you, not for an insurance brand.
It's also the independent agent's job to be well informed about the carriers and their products. The agent knows which insurance types and companies are a good fit for different people. With the agent's market insight and knowledge, you can arrive at a greater potential value while saving your own time and effort.
You can usually consolidate your policies too. Instead of manage various statements and payments, you can keep your auto, home and life coverage in one customer profile with the independent agent. Multi-policy discounts might be available as well.
Why Use an Independent Agent: Licensed Professional
A licensed independent insurance agent is an established specialist who has been vetted for professional knowledge and conduct. The state of Illinois requires an agent to pass an exam to sell insurance. The agent must then periodically take and pass future exams based on continuing education requirements.
Why Use an Independent Agent: Dedicated Personal Service
This may be the biggest reason to work with an independent agent. Insurance is a product and a necessity, but acquiring and maintaining it requires good relationships.
An independent insurance agent is often a member of your community with a connection to your neighborhood. The agent understands both the advantages and the challenges of where you live and how insurance fits into those factors.
With an independent agent, you can get to know a professional person by name, and over time you can become even more familiar with each other as you communicate about your changing coverage requirements.
A good independent agent will review your coverage with you at intervals and keep you current with insurance-market conditions that might favor you.
Why Use an Independent Agent: More-Efficient Claims Processing
If it's time to file a claim, your relationship with your independent agent can save you notable effort and time.
Should you need to submit a claim, you can report the event to your agent. The agent will notify the insurer and advise you during the claims process, including helping you fill out the proper forms.
In some cases, with your independent agent's support, you might even resolve in just a few days a claim that would otherwise stretch into weeks or longer.
Connect with the Right Independent Agent for You
Hometowne Insurance is an independent insurance agent with deep roots in Oswego, Montgomery and Morris (IL). Representing 12 different insurance carriers, we provide you with access to many types of coverage as well as local personal service. We are committed to working for you, not for a specific insurance company.
Contact us today to further discuss how we can help you locate the right insurance based on the factors that matter to you.
Oswego/Montgomery: (630) 554-4040
Morris: (815) 942-1312
Email us
We are also an independent insurance agent for nearby communities such as Plano, Plainfield, Batavia, Geneva, Naperville and Aurora.
Life Insurance Awareness Month: A Time to Reflect on What Matters
Life can be quick to remind us of its unpredictability: Daily news and events are easy examples of that. We all do our best to live our days peacefully and productively, but in the end we just never know when things might change for us and our loved ones.
September is Life Insurance Awareness Month. For those of us who live and work in Oswego and Morris (IL), it's an opportunity to consider how those we care about will be provided for in the event we can no longer contribute.
Are Retirement Savings Enough?
Ideally, all of us will be able to work and earn until we retire, and we will develop sufficient retirement funds along the way. Upon our passing, those funds will remain an asset to our survivors.
But what if life's circumstances don't allow us to build a large nest egg? Will what we leave behind still support our loved ones?
This is where you can determine if life insurance is a desirable supplement to your retirement. A life insurance policy can make a big difference for survivors.
This can be all the more vital if you have young dependents, and the earlier you start your life insurance in Oswego or Morris, the better. For example, if you are 35 with children ages six and nine, your coverage will cost notably less than if you begin it at 50. You'll also know you'll be providing for your children should something happen to you when they cannot yet provide for themselves.
It's often sensible for both parents to have life insurance as well. This can be particularly important if one stays at home with the kids and the survivor would be responsible for paying the mortgage, childcare costs and other debts or bills.
Life insurance can benefit children later in life as well. For example, if you have a child in middle school or high school, life insurance can help provide for college tuition, student loans or future milestones such as a wedding or a first house.
Let's look at some other situations in which life insurance coverage can benefit those of us in Oswego and Morris.
People with partners, no dependents. Those with a significant other and no dependents may still wish for coverage to assist with payments such as the mortgage or other bills should one of the partners pass away. Life insurance can also help with funeral expenses for the deceased.
Plus, as we know, life can change. People can decide to get married or have children even if they didn't think they would. Acquiring life insurance at lower rates earlier when you're single and without dependents can make your coverage last longer for less.
Debt co-signer. If someone co-signed a loan with you (e.g. car, tuition, credit card), that person would still be responsible for the debt upon your passing. A life insurance death benefit could cover that obligation for the surviving co-signer.
Business owner. If you own a business in Oswego or Morris, life insurance can pay any current debts if you pass away. It can also assist heirs to the business with the estate taxes. If you have a business partner, it can help finance a buy-sell agreement that allows the partner to buy out your share.
Financial planning. If you have a high net worth, life insurance can assist heirs to your estate in paying estate or inheritance taxes. Even if you are not categorized as high net worth, you can still provide an inheritance amount through life insurance.
For investors who have reached the limits of other retirement plans, life insurance with a cash-value component can establish a separate source of retirement savings.
Life Insurance Oswego, Morris: Policy Types and Considerations
In acquiring life insurance, you have a wide range of policies to choose from based on your current situation and financial goals. If you wish to cover a specific period, such as until you retire or your mortgage is paid off, you might opt for a term policy.
If you would like coverage that builds a cash benefit through the years, you could discuss a whole life or universal life policy with your agent.
Main things to consider when looking for life insurance are the amount and cost of coverage you need. You might also inquire about any cost for policy adjustment or cancellation. Note too that the potential insurer may wish to collect information about your health when underwriting your policy.
Find Out More About the Right Life Insurance for You
Having life coverage in Oswego or Morris (IL) can give you great peace of mind in knowing you would still be caring for your loved ones even after you are gone. As an independent, full-service agency serving your community, Hometowne Insurance can help guide you to the coverage that's best for you. Connect with a specialist today!
Oswego: (630) 554-4040
Morris: (815) 942-1312
Email us
We are also a main source of life insurance for nearby communities such as Plainfield, Naperville, Aurora, Montgomery, Batavia, Geneva and Yorkville.
How Much Does Life Insurance Cost in Illinois?
"Fun is like life insurance; the older you get, the more it costs," American cartoonist and humorist Frank "Kin" Hubbard (1868–1930) once wrote.
One recent survey revealed that more than one-third (35%) of respondents did not currently carry life insurance. Further, more than half (53%) of those aged 54 to 72 admitted they do not have a policy because they think that coverage is too expensive.
Asked when they should purchase life insurance, more than 37% of all survey respondents (and 47% of the Silent Generation) identified "while you're young and healthy."
Our age will often determine how important life insurance seems to us. When we're young, we might appreciate the wisdom of getting coverage, but we also might feel more room to postpone it. As we age, develop additional responsibilities and become more aware of time, the importance of life insurance can naturally start to rise. We come to recognize how it will help support our loved ones when we no longer can.
When we're able, investing in life insurance sooner does prove to be more cost effective. For those of us who live or work in Oswego, Plainfield, Naperville, Aurora or Montgomery, we might then ask, "how much does life insurance cost in Illinois?"
The quick answer is that term life insurance will be the most affordable type, making it particularly popular among young adults starting families. With a term policy, you choose how long the policy will be active, typically from one year to 30 years.
Acquiring a policy when younger is desirable because the rate will stay the same throughout the specified term. When the term expires, the new rate will be based on your current age and health. For this reason, if you are 25 years old in good health with a spouse and two children, you would benefit more by locking in a 30-year term at a lower rate than having a 20-year policy that is recalculated when you turn 45.
Similarly, as we'll see in a moment, if you try to get life insurance at age 50, the premium can be more than triple that of what you would have paid at age 25.
Example Comparisons
To determine how much your life insurance will cost in Illinois, insurers will base your rate mainly on your age, health and gender. Other factors will include weight, occupation, family health history, whether you smoke, the policy length and the amount of coverage.
The following are example rates* for $500,000 in coverage for a 25-year-old male non-smoker in excellent health:
| Product | Monthly-EFT | Quarterly | Semi-Annual | Annual |
| --- | --- | --- | --- | --- |
| 10 Years | $16.53 | $50.35 | $98.80 | $190.00 |
| 15 Years | $16.97 | $51.68 | $101.40 | $195.00 |
| 20 Years | $17.84 | $54.33 | $106.60 | $205.00 |
| 30 Years | $20.45 | $62.28 | $122.20 | $235.00 |
| To Age 65 | $30.02 | $91.43 | $179.40 | $345.00 |
Let's compare that with $500,000 for a 50-year-old male non-smoker in excellent health:
| Product | Monthly-EFT | Quarterly | Semi-Annual | Annual |
| --- | --- | --- | --- | --- |
| 10 Years | $62.64 | $190.80 | $374.40 | $720.00 |
| 15 Years | $76.56 | $233.20 | $457.60 | $880.00 |
| 20 Years | $97.88 | $298.13 | $585.00 | $1,125.00 |
| 30 Years | $183.57 | $559.15 | $1,097.20 | $2,110.00 |
| To Age 65 | $76.56 | $233.20 | $457.60 | $880.00 |
Now $500,000 for a female 25 years, non-smoker, excellent health:
| Product | Monthly-EFT | Quarterly | Semi-Annual | Annual |
| --- | --- | --- | --- | --- |
| 10 Years | $13.92 | $42.40 | $83.20 | $160.00 |
| 15 Years | $14.36 | $43.73 | $85.80 | $165.00 |
| 20 Years | $14.79 | $45.05 | $88.40 | $170.00 |
| 30 Years | $17.84 | $54.33 | $106.60 | $205.00 |
| To Age 65 | $24.80 | $75.53 | $148.20 | $285.00 |
$500,000 for a female 50 years, non-smoker, excellent health:
| Product | Monthly-EFT | Quarterly | Semi-Annual | Annual |
| --- | --- | --- | --- | --- |
| 10 Years | $49.59 | $151.05 | $296.40 | $570.00 |
| 15 Years | $56.55 | $172.25 | $338.00 | $650.00 |
| 20 Years | $71.34 | $217.30 | $426.40 | $820.00 |
| 30 Years | $150.51 | $458.45 | $899.60 | $1,730.00 |
| To Age 65 | $56.55 | $172.25 | $338.00 | $650.00 |
Get Started on the Coverage That's Best for You
Hometowne Insurance Services is a full-service independent agency that provides personal guidance for acquiring the best available term, whole life and universal life insurance for residents of Oswego, Plainfield, Naperville, Aurora and Montgomery.
If you'd like to further discuss how much life insurance costs in Illinois to cover you and your loved ones, simply call us at (630) 554-4040.
*Rates are for example purposes only; actual rates are determined by underwriting procedure that assesses individual variables.